Lockable Page Templates
FOR COURSES AND WORKSHOPS | SAVE $$$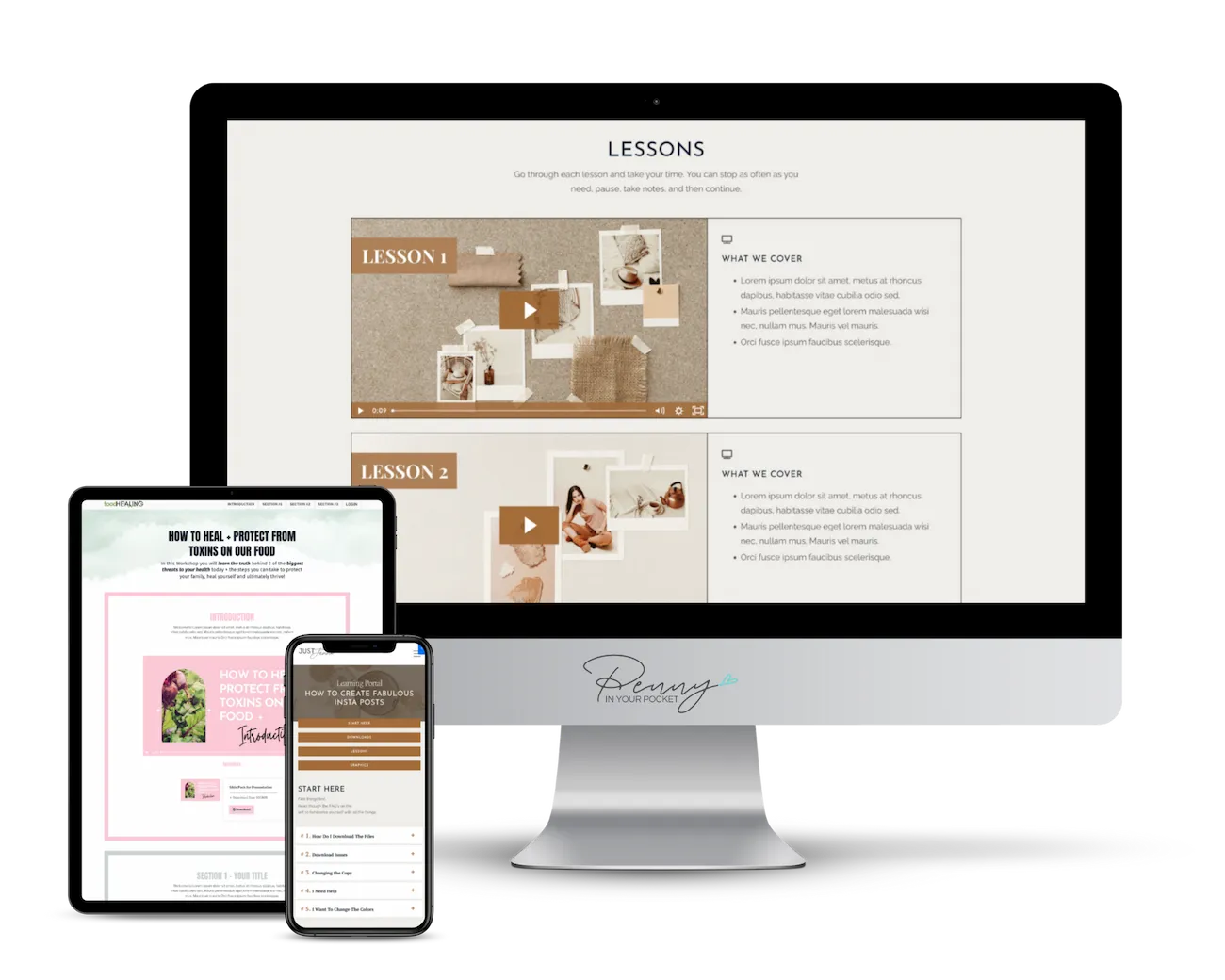 Have you been waiting for a Kajabi landing page that you can put resources or videos on and LOCK it?

Yay, it's here!!! You now have the ability to create a 'product' without using a product... ie put lessons on a page!!! Or a paid webinar or workshop specific to certain members... I've created 2 x designer templates to get you started.
PAGE PREVIEWS BELOW
The Jenna - Mini Course Template
Create a page to house a PAID course. Fill it with some Video Tutorials, Text Lesson, Audio Players - whatever you can add to a normal Kajabi page - you can add to this one.
Set the permissions to allow only a specific group of people to SEE the page... ie Those who own or are granted an Offer.
Determine what should show on the page depending on the permission. If you own Offer A then you can see the lessons. If you don't own that Offer then you can only see a mini sales page for the course...
If you're not already logged in to Kajabi, then add a button for them to login.
If you don't have access to the page (based on the permissions set) then decide whether to redirect them to another page, or only show a couple of sections from the locked page. Choice is yours.
Buy Now
The 4 Part Workshop Lockable Template
Create a page to house a a series of workshop videos and lessons, complete with PDF handouts.
Set the permissions to allow only those that have purchased or been granted the Offer to see the lessons.
Create a section on the page for those that are not allowed access... make it a mini sales optin area and link it to a checkout page... OR
Redirect those not allowed to see it to a separate sales or landing page.
I'm In! Goto Checkout ⟩
Remember - if you're on the basic Kajabi plan and need more products...
this may help put that extra expense off just a little longer...
Use it over and over again, the sky's the limit!
It's like having unlimited products!!!
Here's a quick behind the scenes tour...
This
is for you

if:
You want to create a mini course or workshop on a page, and not within a Product.
You want a lockable page to contain deliverables and instructions... like Digital PDF's, templates, ebooks etc.
You want to create a BONUS mini lesson and keep it locked on a page that you can share with a certain group of members.
You don't mind NOT having all the trimmings of the usual Course Layout, like dripping content, analytics of finishing lessons or watching videos, and a built in comments area.
This
isn't for you

if:
You want to have a structured course syllabus.
You want to deliver a really large course with loads of videos.
You must have video analytics and course completion data.
You want to show different parts of the page to those who purchased OFFER A and then other sections of the page to those who purchased OFFER B. (It doesn't work like that - ie you're either given access to certain parts of the page or you're not).
What's included
1 x 4 Part Workshop Template
1 x Jenna Mini Course Template
ALL YOU NEED TO DO IS:
+ Add in your lessons (videos, text, PDF's)
+ Change any colors or images (I give you graphics and images you can use -- plus the Canva templates to play with - another BIG time saver!)
+ Set your Permissions for the page
+ and VOILA - locked Kajabi Course Pages!
I'm in! Take Me To the Checkout
Things you need to know
---
PRICE: $229

Due to the digital nature of the product, no refunds are available so please make sure this template is a match for your needs before completing your purchase!
What Happens Next?
---
After purchasing, you'll be sent login details where you can access your theme and all of the individual components. Along with a complete library of training videos, and instructions on how to install and setup your lockable pages.
Step by step instructions
Here's what others think of working with my
templates...
---
Frequently Asked
questions...
---
What are the Permissions for the Page?
What's Included In The Pack?
Do I need to know how to use Kajabi?
How do I use this page with a Product?
Can this page be put inside a Product?
Where do you suggest to go for more images?
Do I Need to Access To The Theme Code Editor?
Will these appear on the Library Page?
Have a question about the template?
Ask away....
We won't send spam. Unsubscribe at any time.