Admin Sneak Peek
Flix Slider Version
These are the extra functions and options you have!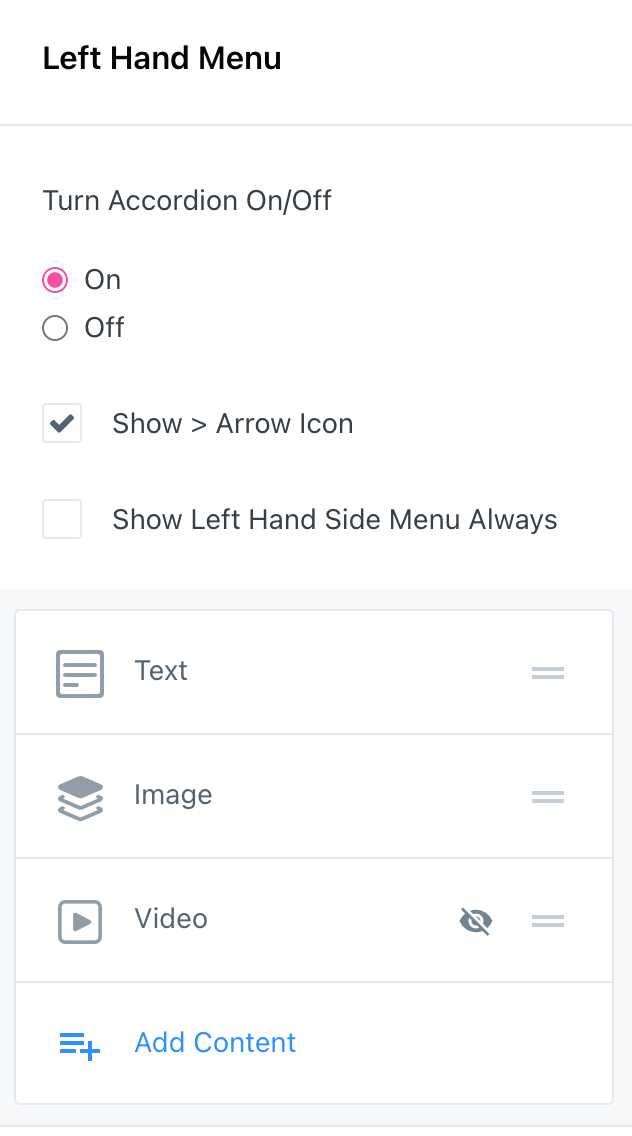 Slide-Out Menu Options
Use the Accordion feature, choose whether you want to show the LHS menu always, and add your own unique content to the menu - like your logo, or extra links.
Course Progress & Welcome
Want to hide any reference to course progress? Just choose hide. You can also design the look of the welcome bar at the top of the dashboard page.
Removes progress from:
Home page
Left hand side menu
Note: course progress does not appear anywhere else in this theme.
Add 2 External Links
To the sidebar, --> go to a FB group, or a bonus product.
Add Blocks to the Dashboard
Style it your way. Choose from Text, Image, Video, Video Card, Image Card, CTA Button
Add Your Own Custom CSS
Want to tweak a couple of things? Now you can.
More Color Options
Because branding should never be limited! You can now also change the background color of your lessons/posts.
Background Styles
You can choose to show an image or a background color on the home page, and category pages.
Choose What To Show
Pick which items you want to show on your Dashboard.
Category Card Styling
Netflix Slider Settings
You can use the normal grid view OR the slider view.
Post/Lesson Settings
Watch the screenshare to see the options.
Visibility Options
Show or Hide various components. Use what you need.
A Favorites Page +
Hide All Comments
All favorite lessons can be shown on one page, plus you can hide all comments with one Tick.
Show/Hide Pop Up
This can get annoying for some, so turn it off.
Downloads Button
Make it stand out with your own graphic/image.
Mark As Complete
Don't need this? You can now hide it. Plus make it stand out with your own graphic.
Video Settings
Control what you show, and if you want the videos to play automatically. 
most popular
$239
USD - One time payment
Flix Custom Product Theme
Comes with 3 versions. Flix Slider, Flix Movie and Flix Yoga.
MAKE IT MINE!
The Flix Custom Product Theme
Lots of customization, lots of different ways you can use it.
Courses, memberships or even a resource product.... take your pick.
And style it your way!